Your Face After Weight Loss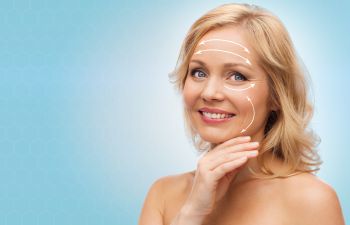 Have you recently attained a weight loss goal? If significant fat has been lost, you may be ecstatic about your new figure but less than thrilled about the way your skin now hangs on your face. Dramatic weight loss in an aging adult, even if done in a healthy manner, can lead to sagging facial skin due to the loss of fat volume in the face and poor elasticity within the skin.
Shedding the extra pounds should make you feel energetic, healthy and confident – but is your sagging facial and neck skin an unwanted byproduct? Fortunately, there are ways to restore your appearance if recent weight loss has impacted your face in negative ways.
Shedding Pounds Later in Life
When a younger individual loses a large amount of weight, their facial skin is more likely to shrink along with their waistline due to the ample supply of collagen and elasticity still left in the skin. Unfortunately, skin loses this elasticity as we age. Therefore, if you decide to embark on a dramatic weight loss plan as an aging adult, you may be disappointed in the way your skin fails to show resilience when losing inches. As you lose fat cells, the volume under your skin is depleted. When the skin lacks elasticity, this can leave you with sagging skin as well as lines and wrinkles that were not as visible or prominent before your weight loss journey began.
Weight loss should bring revitalized energy, youthfulness and health. To ensure your facial appearance matches your feelings on the inside, you may need to seek the help of a skilled facial plastic surgeon. While not everyone needs (or wants) to undergo facelift or neck lift surgery, you can rest assured that there are also a number of effective solutions in non-surgical facial rejuvenation.
Weighing Your Skin Tightening Options
If your face looks older, sunken or saggy after your recent weight loss, you've got options! This may include surgical or minimally invasive procedures depending on the type and severity of the changes that have taken place, your current age and your personal goals and preferences. Dr. Ben Talei of Beverly Hills Center offers a full range of procedures to tighten and redefine your facial beauty after weight loss, including:
At our Beverly Hills clinic, we want you to look as great as you feel after reaching your weight loss goals. If the way your facial skin has responded to your weight loss is keeping you from feeling confident, let us help. We have an effective and customized solution for each patient!