What is Causing Your Under-Eye Circles?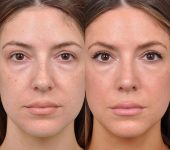 The appearance of your eyes can greatly influence how others perceive you. A smooth complexion and even skin tone around the eyes can give off a youthful and energetic look. Unfortunately, this means that when the eyes are framed by wrinkles, heavy skin and dark circles, you can look tired, aged and unattractive.
One of the most common cosmetic concerns regarding the eyes is dark circles. You may be surprised to learn, however, that under-eye circles can exist for multiple reasons – not just when you are lacking in sleep. When you can rule out fatigue as the culprit to your dark under-eye circles, you can consider the following reasons for their unwanted appearance:
Heredity
Did you know that you can blame your parents for your dark circles under your eyes? In fact, heredity is a main cause for this feature. Your genes are responsible for weakened capillaries in the skin as well as how thin or transparent this delicate area of skin is under your eyes. When under-eye skin is especially thin, the purple-colored eyelid muscle can show through.
Allergies
If your dark circles coincide with a runny nose and itchy eyes, they may be a result of seasonal allergies. When the nose is congested, blood vessels around your nose can become inflamed and force the blood to slow down. In result, the veins under your eyes can appear darker and create those unwanted circles.
Visible Small Blood Vessels
When the countless blue veins under your skin are more visible, it can cast a dark shadow on the surface of your skin. This is especially common in the thin skin around your eyes. While some patients can address this with extra Vitamin K (anticoagulant), others can improve their visible blood vessels with laser skin treatments.
Pigmentation
It may also be possible that you have a pigmentation problem that is causing your under-eye circles. A brown patch of pigment on the lower eyelid can occur when there is too much sun exposure, but also in certain ethnic groups, such as African American, Hispanic and Asian.
Puffy Eyes
In many cases, dark circles are a result of the natural aging process. A common sign of aging around the eyes is puffiness or "eye bags." What may seem like dark skin under the eyes may actually be a shadow cast beneath the bulge of excess eyelid fat.
Hollow Eyes
As we age, our skin naturally loses the components (such as collagen, elastin and hyaluronic acid) that keeps our skin full and resilient. When this volume loss occurs beneath the eyes, the reddish-blue blood vessels can be very apparent. The lower eyelid skin and tissue can sink in and appear darker when there is a lack of orbital fat. Fortunately, a skilled facial plastic surgeon can correct this using dermal filler or surgical fat transfer.
Say Goodbye to Your Under-Eye Circles
Are you tired of trying to conceal your under-eye circles? Does the shadow beneath your eyes make you look tired or older than you really are? The development of dark circles isn't always within your control. If you'd like to regain a brighter and more confident under-eye appearance, turn to Dr. Ben Talei of Beverly Hills. It takes a talented and experienced plastic surgeon to address this delicate but important area of skin that exists beneath the eyes.