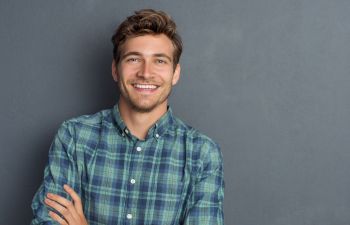 When considering cosmetic procedures for the lips, the female population typically comes to mind. Women are most known for their desire to achieve a fuller, younger-looking or more sensual lip appearance. However, the same surgical and non-surgical lip augmentation procedures that are available to women are also available to men. In fact, according to the American Society of Plastic Surgeons, an increasing number of men are seeking out specific procedures to achieve plumper, more attractive lips.
The Unique Lip Goals for Men
Much like women, it is often the thinning lips that concern men and sabotage their self-confidence. Since the lips naturally thin with age, it makes sense that fuller lips on a male can create a more youthful appearance.
The goal of lip augmentation for men, however, is not exactly the same women. A skilled plastic surgeon understands the keen differences that males need and want in a lip enhancement. Many women, for example, tend to focus on a pouty upper lip with a defined philtrum. These changes lead to a more feminine and sensual look and feel. For men, however, lip augmentation focuses more on adding volume to thinning and aging lips or creating a specific facial expression. Most men just want to maintain a natural look that is younger, lighter and more appealing.
Macho Mouth and Other Treatment Options
There has been a popular demand among millennial men for a non-surgical lip treatment known as "Macho Mouth." This professional and minimally invasive treatment, which was developed by a Miami and New York based plastic surgeon, relies on Hyaluronic Acid filler injections in the lips as well as strategic areas of the lower face. This can give men a fuller, more supple lower lip, without the more dramatic fullness that's typical of lip augmentation procedures for women.
Augmentation choices for thin-lipped males, however, depend on whether you want a permanent or non-permanent procedure. Injections can only last so long, whereas a lip lift, modified lip lift and lip implants will be a more permanent fix for lackluster lips. At the office of Dr. Ben Talei, we proudly offer a full range of cosmetic services just for men. If you would like to improve the appearance of your lips, please schedule your consult to discuss your surgical or non-surgical treatment options. Men deserve youthful, kissable lips too!