Is A Neck Lift Right for You?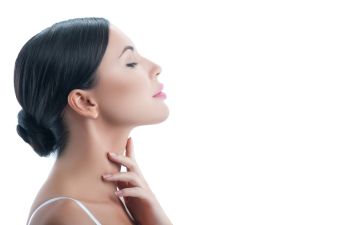 While many discussions in facial plastic surgery center around the features of the face, many people experience dissatisfaction in the way their neck looks. Whether it is a double chin, jowls or the unwanted "turkey wattle," the neck can show signs of aging just like other parts of the face and body. While there are non-surgical treatments, such as Kybella injections, to eliminate double chin fat, this may not be enough to help you regain the youthful neck appearance you desire. If you have excess fat, along with loose neck skin, a neck lift may be a more effective and appropriate solution.
There are a number of factors that can lead to aesthetic concerns within the neck, including the natural aging process, stress, genetics, and other environmental factors. Even your posture or the way you persistently looks down at your cellphone all day can contribute to an unattractive neck appearance.
The Neck Lift Procedure
A neck lift is a procedure performed to improve the appearance of the neck. It can involve three effective techniques, including the removal of excess skin, the removal of fat through liposuction, and tightening of weakened neck muscle tissue (platysma muscle). Incisions are hidden behind the ears or underneath the chin. When tightening and smoothing out the loose neck muscles, internal incisions can be used. The end result is a tighter, contoured and youthful looking neck.
Is drooping neck skin or bulging under-chin fat sabotaging your appearance or the way you feel about yourself? Consider a neck lift from Beverly Hills' most awarded facial plastic surgeon. Call Dr. Ben Talei today to determine your candidacy.