Don't Let Your Eyelids Age You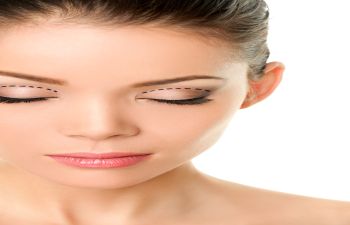 Are you plagued by a fatigued appearance because of your sagging or puffy eyelids? Despite feeling energetic or young, the aged appearance of the eyes can tell a different story. Over time, it is common to develop bulging fat and excess skin along the eyelids. While acute eye puffiness can be a result of allergies, dehydration or lack of sleep, when your puffy eye bags take up permanent residence, it is likely a sign of aging, and it may be time to see a plastic surgeon.
Why Do Eyelids Get Puffy Over Time?
Puffy fat deposits in your eye area can often be caused by periods of weight gain and loss over the years. When you gain weight, fat cells increase and form deposits. When you lose weight, certain parts of your body may hold onto that fat, which often includes the under-chin area and your eyes. This can make it challenging to correct with injectables or other non-surgical options.
To reverse the process, an eyelid lift or blepharoplasty surgery can be performed. At Forever Faces Plastic Surgery, we can revitalize your appearance by addressing the following cosmetic concerns of the eyes:
Excess skin and fat on the upper eyelids
Loose skin, wrinkles, and bags on the lower eyelids
As a reputable and skilled facial plastic surgeon, Dr. Talei is exceptionally equipped to create superior results in eyelid lift surgery. Depending on your aging patterns, skin tone and extent of wrinkles, Dr. Talei may perform an upper eyelid lift, lower eyelid lift or both. After a thorough evaluation and discussion of your needs, we will determine which procedures will produce the best possible outcome for you, which can include the following:
Droopy Eyelid Repair:
Sagging or drooping upper eyelids can create an overhang or "hooded" appearance. This not only poses a threat to vision, but it can also make you look tired and worn down. Droopy eyelid repair involves an upper blepharoplasty procedure to remove excess skin and/or fat in the upper eyelids using well-hidden incisions within the natural creases of the eyelid.
Puffy Eyelid Repair:
Excess fat in the eyelids can create unwanted puffiness, especially below the eyes. If a patient has lower eyelid puffiness without excess eyelid skin, a transconjunctival blepharoplasty eyelid lift can be performed. This is a technique that carefully removes the bulging fat through a tiny incision on the inside of the eyelid. This is a favorable approach for those that do not want external scarring and only need fat removal. If you have persistent under eye bags caused by excess fat, lower blepharoplasty is an excellent solution.
Eyelid Rejuvenation:
The goal of any eyelid surgery is to rejuvenate the appearance of the eyes and create a more well-rested and youthful look. For many patients, upper and lower blepharoplasty are performed at the same time. This reduces downtime from multiple procedures and ensures a more complete and balanced outcome. Eyelid rejuvenation can also include non-surgical treatments such as chemical peels or laser resurfacing. In some cases, a brow lift or forehead lift is combined with an eyelid lift to achieve a more dramatic improvement in those who have excessive upper eyelid skin.
Are puffy eyelids sabotaging your appearance? Call Dr. Ben Talei today to learn more about eyelid surgery in Beverly Hills.