Chin Projection: Why it Matters and What You Can Do About it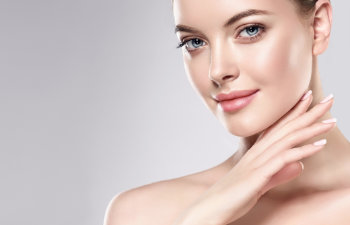 When it comes to facial beauty, the chin doesn't get much attention. People more often consider the eyes, cheeks, lips or nose when evaluating their attractiveness. However, the chin, specifically its projection from the face, can have a significant impact on overall facial beauty.
At Beverly Hills Center, we help patients recognize the importance of correcting a weak chin in order to balance the rest of the face and improve their appearance. While fillers can be used to add volume and projection to the chin, the most long-lasting way to address a weak chin is with surgical chin implants.
What is a Chin Implant?
A chin implant, also known as a mentoplasty, is a surgical procedure that involves the insertion of an implant to improve the appearance of the chin. This is typically accomplished with a silastic implant that is extremely safe, durable and natural looking. It is not uncommon to have a chin implant in conjunction with a facelift or rhinoplasty, as the projection of the chin can greatly influence the appearance of the nose.
The Benefits of Chin Implants
If you are choosing chin implants to create a more attractive chin and better facial harmony throughout your face, you can expect the following advantages:
Enhances Facial Symmetry: A well-defined chin can improve the balance and symmetry of your face. A chin implant can create a stronger jawline, making your facial features more harmonious.
Improves Facial Contours: A weak or receding chin can make the neck appear thicker and less defined. A chin implant can enhance facial contours and create a more defined and youthful appearance.
Boosts Confidence: Many people who undergo chin implant surgery report feeling more confident and self-assured after the procedure. A stronger, more defined jawline can improve your overall appearance and boost your self-esteem.
Low Risk Procedure: Chin implant surgery is a relatively simple procedure that carries a low risk of complications. Most patients can return to their normal activities within a week or two after the surgery.
Customizable: Chin implants come in a variety of sizes and shapes, allowing for a customized approach to each patient's individual needs. Dr. Talei can help you choose an implant that will achieve your desired results.
Long-lasting Results: A chin implant is a permanent solution that can provide long-lasting results. Once the implant is in place, it will not need to be replaced or adjusted in most cases.
Let's Talk About Your Chin in Beverly Hills
To learn more about chin implants and whether this procedure is right for you, please schedule a consult with Dr. Ben Talei in Beverly Hills. He is an elite facial plastic surgeon who understands how your facial features work together to create the most attractive look.