Your Double Chin Got You Down?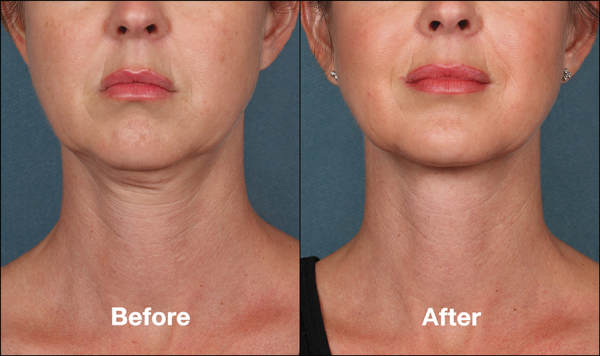 We all critique ourselves, especially when it comes to our facial appearance. According to a survey from the American Society for Dermatologic Surgery, nearly 67% of people named their "double chin" as one of their most bothersome flaws. In fact, study participants were equally concerned by their double chin as they were about wrinkles and other signs of aging.
Until recently, fixing a double chin meant going under the knife for plastic surgery. However, a youthful and contoured chin and jawline can be achieved by a simple injectable formula called Kybella®.
Why Double Chins are So Prevalent
There is good reason why extra fat beneath the chin is so common. There are a variety of naturally-occurring factors that can play a part in a double chin appearance, including the following:
pull of gravity
intrinsic aging (decreased production of collagen and less underlying support of skin)
genetics (some people simply have looser skin below the jawline)
weight gain
Each of these factors can lead to drooping skin or that hanging bulge of fat below the chin, especially considering that there is no bone or muscle underneath it to hold it up. For many, this under-chin fat (submental fat) is quite stubborn and persists despite their level of diet and exercise. These patients can make ideal candidates for Kybella injections.
What is Kybella?
Kybella is the prescription brand name for an injection that is formulated with deoxycholic acid. This is a naturally occurring molecule in the body that is known for breaking down dietary fat. Therefore, when Kybella is injected under the chin, it can permanently eliminate the unwanted fat deposits and drastically reduce the appearance of a double chin.
Prior to 2015 when Kybella was approved by the FDA, your choices to get rid of a double chin included surgical procedures like a neck lift, mid-face lift or liposuction. However, as the only approved injectable treatment to improve the appearance and profile of a double chin, Kybella makes a confident profile possible without surgery.
Kybella treatments are customized for every patient, but you should expect to receive multiple treatments (spaced 4 weeks apart) to achieve your desired results. The number of treatments will depend on the amount of fat stored under your chin as well as your personal goals for Kybella. To learn more about non-surgical double chin treatment or to determine your candidacy for Kybella injections, please call our Beverly Hills clinic.