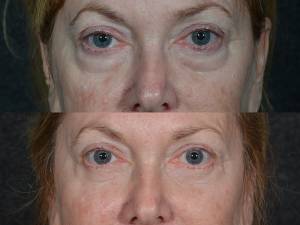 Your eyes are typically the first feature others notice about you. They instantly reflect your mood and your energy. Your eyes are also a defining factor in how youthful (or old) you appear. Your eyes can begin to show signs of aging even as a young adult. Sagging eyes, bags under the eyes, crow's feet, deep tear troughs and dark circles are common complaints when it comes the eyes. In many cases, patients feel that their eyes are largely misrepresenting their age. Fortunately, there are endless options when it comes to addressing unwanted eye aesthetics. From topical creams and fillers to surgical eyelid lifts, there are solutions for anyone who wants to reverse the signs of aging and restore a youthful sparkle.
The eyes tend to age prematurely for a variety of reasons. Did you know that your eyeball actually causes sagging over time due to its own weight? In addition, the orbicular eye muscle moves over 20,000 times a day and the skin around the eye is 2/3 thinner than any other area. These are facts that can strongly explain why you may be looking more tired or older than you really are.
Signs of aging around the eyes begins early. In your 20's, you may start to experience areas of concern under your eyes, such as eye bag sagging or dark circles. The eyelid can start to change in your 30's and wrinkles may form due to dryness and loss of plumpness. By your 40's, you'll likely notice aging in the corners of your eyes. This is when wrinkles deepen due to years of blinking and facial expressions. Therefore, it is not uncommon for both young and older women to consider cosmetic treatment for their eyes.
At Beverly Hills Center for Plastic & Laser Surgery, Dr. Talei offers a full menu of eye procedures, including those for the brows, eyelids and under the eyes. Choose from a blepharoplasty, eyebrow/forehead lift, Asian eyelid lift or non-surgical filler treatments. Depending on the severity of your concerns and your personal preferences, Dr. Talei can find the most appropriate treatment plan for you. Choosing to correct the signs of aging around your eyes can make the most dramatic improvement in your overall facial appearance.