Why Did My Baby Get a Vascular Birthmark?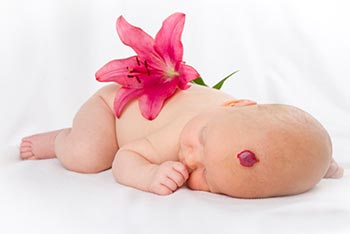 Birthmarks are common, nearly everyone has one. Contrary to popular belief, not all birthmarks develop at birth. However, most people were born with the birthmarks they currently have. Birthmarks are often harmless and represent a slightly darker area of skin. The most popularly discussed birthmarks are known as pigmented birthmarks, where the skin has developed a cluster of pigmented or darker cells in one place. Most parents aren't concerned about pigmented birthmarks, as they are more common, less noticeable and typically on areas of the body other than the face.
There is another type of birthmark, however, that can raise concern for parents: vascular birthmarks. These birthmarks are red, pink or purple and develop as a result of abnormal blood vessels or dilated capillaries under the skin. Vascular birthmarks include macular stains (salmon patches), hemangiomas ("strawberry mark"), and Port-wine stains. Unfortunately, the cosmetic repercussions of these types of birthmarks can be substantial, enough for parents to ask questions about removal early on. In addition, port wine stains that appear on the upper eyelid or forehead may be indicative of Sturge-Weber syndrome, and some port wine stains may be associated with glaucoma and seizures.
Whether it is purely an aesthetic issue or a threat to your baby's health, is understandable why you'd like to know why or how the vascular birthmark occurred in the first place. Why was one son born with a small, brown pigmented birthmark on his forearm and the other son born with a large, red mark on his forehead? Unfortunately, the cause of birthmark formation is not clearly known. We do know that vascular birthmarks are not hereditary, however, so it doesn't mean your next child will suffer the same blemish.
While we can't provide a definite cause, you'll find comfort in knowing that there are ways to effectively remove your child's vascular birthmark, even as a baby. In fact, Beverly Hills has one of the most renowned birthmark removal surgeons in the country. Dr. Ben Talei has an exceptional amount of training and expertise, including a dual fellowship training in Facial Cosmetic and Reconstructive Surgery, Vascular Birthmarks and Congenital Anomalies with Laser Surgery. We use the latest, most proven procedures for Hemangiomas, Port Wine Stains, Vascular malformations and Lymphatic malformations. To schedule your appointment, call our Beverly Hills facility today.