Which Brow Lift Technique Is Best For You?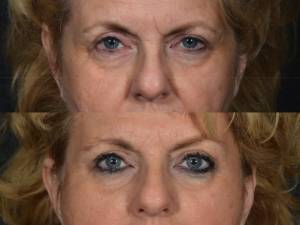 Could a brow lift make you look younger, happier, or more energetic? A brow or forehead lift is a cosmetic procedure that works to correct sagging skin and other signs of aging around the eyes, brows and forehead. It repositions the eyebrows or underlying forehead tissues to create a more youthful appearance. A brow lift, when done correctly, can restore the youthful arch to your brow while also opening the eyes and reducing forehead wrinkles.
There are several methods to elevate the eyebrows to a more attractive position, both surgically and non-surgically. Here is an explanation of each brow lift technique:
Chemical Brow Lift

BOTOX can be used to elevate the brows non-surgically. The injection is placed in the muscles that depress the eyebrows, which allows the brows to lift 1-2m. This is ideal for patients who want an improvement without surgery, yet the results are more temporary.

Temporal Brow Lift

This technique involves multiple small incisions, which are made in the temple region of the forehead, with most hidden in the scalp. This approach involves less dissection than other surgical methods, but only the outer portion of the brow is elevated. Older patients with deep forehead wrinkles who wish to avoid more extensive dissection may benefit from this brow lift method.

Endoscopic Brow Lift

The endoscopic brow lift allows the brows to elevate without the excision of skin. Several small incisions are made behind the hairline. Next, the forehead skin is repositioned and secured in an elevated position using an endoscope and specialized instruments. This technique has the advantage of small incisions hidden in the scalp. This procedure may be ideal for patients in their mid to late 30's with minimal brow drooping.

Coronal Brow Lift

The coronal brow lift involves an incision from ear to ear across the scalp. The tissue is elevated off the bone to the brow level. Small incisions are made in the connective tissues to elevate them. The excess tissue is removed and the incision is close. The incisions can be hidden in the scalp and this procedure often has the most dramatic, long-lasting results.

Trichophytic Brow Lift

Also known as the hairline brow lift, the trichophytic brow lift places incisions directly in the hairline in a wavy fashion, which works to camouflage them. Skin is removed from the non-hair-bearing portion of the forehead. The brows are elevated while the hairline is not. This technique also provides long-lasting results but is typically not best for men who have a high probability for male pattern hair loss, as this may eventually reveal the scar.
At The Beverly Hills Center for Plastic & Laser Surgery, Dr. Talei is skilled and experienced in all of these brow lift procedures. We will always recommend a specific technique based on your personal needs, age and preferences. Dr. Talei is known for his minimally invasive methods to bring the most dramatic improvements in plastic surgery.