What is the Right Age to Get a Facelift?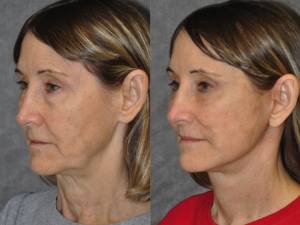 Are you tired of investing in anti-aging treatments that wear off after a few weeks or months? Perhaps you are ready for a more permanent solution but think you are too young for facelift surgery. While many people believe that a facelift is best performed in your fifties or sixties, this isn't always the case. In fact, your chronological age should not guide your decision in whether to take advantage of facelift surgery.
Each patient has unique skin that ages at different rates. Instead of waiting for another birthday to consider facelift surgery, it is better to focus on the condition of your skin, which will often be more influenced by your genetics, lifestyle choices and other factors rather than your age. For example, if you have a grandmother or aunt with deep wrinkles and sagging skin at an early age, you may be a candidate for a facelift before you reach your fifties or sixties.
At skilled plastic surgeon will consider the severity of your aging concerns as well as your overall health and skin condition when deciding if a facelift is ideal. Fortunately, no two facelifts are exactly alike. Not only do we customize our surgical approach to each patient, but there are also various types of facelifts. A traditional facelift is very different than a mini-facelift or "early maintenance facelift" uniquely offered by Dr. Ben Talei.
The Benefits of Early Maintenance Facelift
Choosing a facelift earlier rather than later can help you avoid more extensive plastic surgery down the road. Simply put, less work has to be done when you are showing less signs of aging. This limited facelift requires fewer incisions to achieve the desired results. If you notice the signs of aging, such as crow's feet, fine lines and loose skin, an early maintenance facelift could be the proactive approach you need to retain your youth!
Let us Customize a Facelift Approach for You
Facelifts or any other facial plastic surgery should never be considered as a cookie-cutter approach. Instead, Dr. Talei will evaluate the specific condition of your aging complexion to determine if a facelift is best and what type of facelift technique would be most beneficial at your stage of life. If surgery is not an option, our Beverly Hills clinic also offers a number of non-surgical treatments, including a liquid facelift using facial fillers.
Learn your candidacy by scheduling a facelift consult with Dr. Ben Talei today.