Tips to Lessen Rosacea Flare-Ups During COVID-19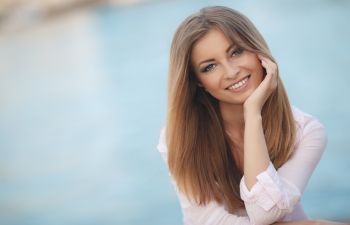 An estimated 14 million Americans suffer from a chronic inflammatory skin condition called rosacea. Rosacea, which commonly occurs on the face, can trigger severe redness or blushing along with bumps. It is often mistaken for acne, eczema or skin allergies and can be detrimental to the self-esteem of those who suffer. Fortunately, there are treatments for rosacea as well as ways lessen flare-ups at home.
Identifying Your Triggers
One of the most proven ways to minimize rosacea is to identify the situations, products or other factors that trigger your rosacea to flare up. This can look different from person to person. However, common rosacea triggers include:
Sunlight
Stress
Hot weather
Cold weather
Alcohol
Spicy foods
Exercise
Hot drinks
Certain skin and hair care products
Controlling Rosacea During a Pandemic
The recent COVID-19 pandemic has prompted countless changes in the way we do (and feel about) life. Unfortunately, this nationwide crisis has also caused some changes that may exacerbate your rosacea. Here are three tips to ensure the COVID-19 pandemic doesn't win against your facial rosacea.
#1 Minimize Stress and Stick to Your Routine
We know that rosacea can be greatly influenced by stress and anxiety. While it may be hard to completely eliminate stress during such dramatic event, do your best to relax. Rosacea flare-ups can be better controlled when you stick to your routine, such as getting a normal amount sleep and staying on the eating and exercise schedule that you are used to.
#2 Don't Explore Skin Care Products
A shelter-in-place order seems like the perfect time to order and try new skin care products. However, if you have rosacea, this can be risky. To avoid an unexpected reaction and flare-up, maintain your skin with the products that have worked well in the past.
#3 Be Mindful with Your Mask
The CDC recommends wearing a mask in public to help prevent the spread of COVID-19. If you suffer from rosacea, there are ways to ensure the mask doesn't come at the cost of a rosacea flare-up. Applying a fragrance-free moisturizer for sensitive skin is great way to protect your skin from irritation or abrasion from a face mask. In addition, a soft cloth mask can be the best option for rosacea sufferers unless you are someone who requires an N95 mask. Choose a mask design fits well but doesn't cause quick overheating, which can also aggravate rosacea.
A Plastic Surgeon Who Treats Rosacea
If you are tired or frustrated with trying to avoid rosacea triggers to gain a confident complexion, there are advanced, non-surgical treatments available. Dr. Ben Talei of Beverly Hills Center offers topical medication treatments as well as certain lasers that are proven to soften and lessen the appearance of rosacea. Schedule your consult today.