Skin Cancer on Your Face? Why You Need a Plastic Surgeon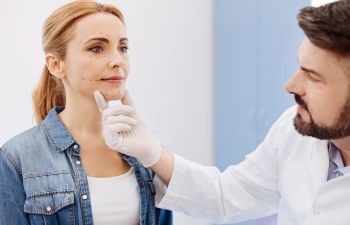 According to the Skin Cancer Foundation, as much as 20 percent of all Americans will develop skin cancer during their lifetime. Due to its prevalent exposure to sun, the face is a common area of skin to be involved. When it comes to removing skin cancer lesions from the face, a specialized and highly effective procedure is performed called Mohs surgery.
Mohs microscopic surgery is typically done by a qualified dermatologic surgeon and involves removing layers of tissue at a time. The tissue is closely examined under a microscope to ensure that only the cancerous layers of tissue are removed and more healthy skin cells remain. Mohs surgery is the gold standard for removing cancerous skin cells around the eyes, ears and nose. These are areas in which there is less subcutaneous tissue and deep tumor invasion can progress quickly.
While Mohs surgery is designed to minimize excised tissue, there is almost always a need for reconstruction following Mohs surgery. In other words, unsightly scarring and disfigurement of the facial defect may need to be repaired. Considering the importance of facial aesthetics and the artistry and precision required to perform cosmetic surgery on the face, it is important that you include a qualified facial plastic surgeon on your team of skin cancer treatment specialists. While a plastic surgeon won't be removing the cancerous cells, the final step in facial reconstruction after Mohs surgery can be life-changing.
When choosing a Mohs reconstructive plastic surgeon, don't wait until the last minute. This procedure shouldn't be an afterthought. In fact, timing is important in terms of your aesthetic outcome. Immediate plastic surgical reconstruction after Mohs surgery will often produce the best cosmetic results. Depending on the location, severity and size of the cancerous tissues that were removed, your Mohs plastic reconstruction can involve local tissue rearrangement using skin flaps or grafts, hiding scars/incisions in natural skin folds, microdermabrasion and other specialized treatments to smooth the area of skin and help patients regain the natural, functional and attractive complexion they deserve.
Mohs reconstruction should not be taken lightly. When performed well, it can be the difference in allowing a patient to put their skin cancer behind them or be reminded of the experience with unsightly scars and disfigurement when they look in the mirror. Dr. Ben Talei is one of the most esteemed facial plastic and reconstructive surgeons in the country. He has performed countless Mohs reconstruction on all areas of the face. If you have skin cancer and are scheduled for Mohs surgery, please give us a call so that Dr. Talei can work closely with your dermatologic surgeon and help you achieve the most aesthetically pleasing outcome possible.