Sick Before Your Facelift? When to Reschedule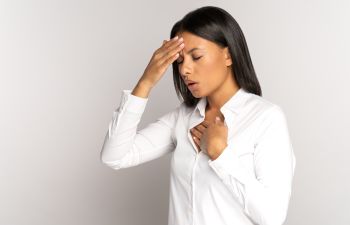 You've been counting down the days until your facial plastic surgery. You've arranged for time off work and prepared your home for a seamless recovery. Just before your facelift procedure, however, you start feeling unwell. Should you cancel?
If you feel sick before your facial plastic surgery, don't ignore it and certainly don't hide it. While feeling unwell doesn't automatically mean you have to cancel your plastic surgery, any changes to your health prior to your procedure need to be disclosed to your plastic surgeon. This isn't just about keeping your doctor away from germs. The severity of your symptoms and strength of your immune system can drastically impact how you respond to anesthesia during the procedure, your healing rate at home and the overall results of your facelift investment.
If you feel sick in the days leading up to surgery, tell your doctor as soon as possible. They will be able to tell if your symptoms are serious enough to warrant postponing your procedure. It may be tempting to wait and see if your symptoms improve, but you may be charged unwanted fees if your procedure is canceled at the last minute.
Signs You Should Cancel Your Procedure
The decision to postpone your facelift or other facial plastic surgery should always be determined by your plastic surgeon on a case-by-case basis. However, there are some common signs and symptoms that typically require you to put off your facelift until your body is healthier, including the following:
Fever: A high or unexplained fever requires a delay. A low-grade temperature (between 100 and 102 degrees) may be allowed in some situations.
Vomiting: Vomiting is an obvious sign that your body not well. Not to mention, vomiting after your facelift can be detrimental to your comfort and recovery.
Breathing Problems: A chronic cough, bronchitis or shortness of breath are indications that you should postpone your procedure. Breathing capacity must be in a safe range before you undergo general anesthesia.
Infection: Skin infections, urinary tract infections, sepsis and meningitis need to be treated and eliminated before surgery of any kind.
Contagious Illness: If you have strep throat, flu, COVID-19 or another contagious illness, we ask that you delay your facelift procedure until you are no longer contagious.
We know you've anticipated your surgery plans for a long time. However, don't rush into surgery when you aren't feeling well and risk compromising your procedure. Your recovery rate, healing comfort and overall results can be affected if your body isn't up for the event of facial surgery.
At the Beverly Hills Center, we want to know if you are experiencing signs of sickness in the two weeks leading up to your facelift surgery. We want you to have every opportunity of a positive and rewarding experience.