Sagging Brows Getting You Down?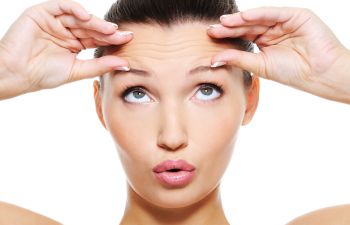 One of the most frustrating (and devastating) effects of aging is sagging skin. This occurs when the skin loses collagen and elasticity and is more easily defeated by gravity over time. To make matters worse, sagging skin on the face is often the most significant and of course most noticed. While many people complain about their sagging cheeks and bulging jaw line, the effects of sagging skin can also be found further up in the face. In fact, when the forehead and brow skin droops, it can cause a host of unwanted flaws around the eyes. This can begin in the 30s and 40s for many men and women.
Sagging eyebrows and forehead skin can produce the following concerns:
Wrinkles or loose skin around the eyes

A tired, angry or old appearance

Hooded eyelids (even visual impairment)
The Solution for Sagging Brows
While dermal fillers and Botox injections can temporarily improve the signs of aging across the forehead and eyes, the most effective and long-term solution to sagging eyebrows is an eyebrow lift. An eyebrow lift is frequently referred to as a forehead lift. It is a surgical procedure that tightens the forehead skin and lifts the brows to a more natural and youthful position. Typically, the procedure requires an inconspicuous incision along the hair line. Excess tissues are removed and the deeper layers of the skin are tightened to allow for a rejuvenated yet natural look.
Results are immediately seen after your brow lift procedure. If you have swelling, rest assured that this will subside quickly. Downtime is often required as you allow your incisions to heal; this involves no strenuous activity. To accelerate recovery, patients should not smoke, get plenty of rest and eat a healthy diet that is rich in healing nutrients.
Patients that undergo a brow lift are typically very pleased with the results. Once the brows are lifted and the forehead is smoothed, a youthful and rejuvenated appearance is often noted throughout the entire face. If you are bothered by your sagging brows, consider a cosmetic brow elevation with a renowned surgeon in Beverly Hills. Dr. Ben Talei has performed countless brow lift and forehead lift surgeries with the highest level of artistry and precision.