Removing Your Child's Port Wine Stain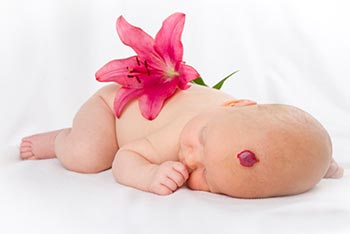 Many of us are born with a few moles or a small brown birthmark somewhere on the body. These skin imperfections make us unique and are usually not a source of insecurity. However, when a birthmark is large or bright in color, it can draw unwanted attention and trigger low self-esteem, especially in kids.
There are many types of birthmarks. One of the most distinctive or prominent birthmarks is a Port Wine Stain, which is characterized by its red or purple color and high visibility on the face, neck, arms, shoulders and scalp. If you have a child who was born with a port wine stain, you may be asking whether it is safe and worth it to seek treatment for this unsightly discoloration.
Here are some facts about port wine stains to help you make an informed and confident decision about whether to undergo treatment:
Port-wine stains can change appearance as a child grows older.

These birthmarks are a malformation of capillaries that can often become darker over time. In some children, the port wine stain thickens or appears lumpy. This can be another reason to consider port wine stain removal at a young age, as peer ridicule can become a significant concern for older children.

Pulsed Dye Laser treatments can reduce the appearance of port wine stains.

Today's medical advancement allow for an effective and minimally-invasive treatment for port wine stains. A Pulsed Dye Laser (PDL) works by targeting the hemoglobin inside the tiny blood vessels that create the birthmark. The laser eliminates the birthmark from within by heating up the capillaries. This effectively damages and removes the unwanted blood vessels. In most cases, multiple (spaced out) treatments are necessary to achieve ideal results.

Pulsed Dye Laser is a safe treatment for children.

Although PDL treatment can cause minimal discomfort, it is considered completely safe for children. A topical anesthetic will be used prior to treatment, and even babies tolerate laser treatment well. The laser can be used on patients as young as a few days old. In fact, studies show that 90% stain clearing can be reached if treatment is begun during infancy.

Dr. Talei is a renowned specialist in treating vascular birthmarks with lasers.

Dr. Talei has dual fellowship training in Facial Cosmetic and Reconstructive Surgery, Vascular Birthmarks and Congenital Anomalies with Laser Surgery. His knowledge and experience in port wine stain treatments makes him on of the most successful and sought after physicians for such birthmarks.  Extensive experience has advanced our practice to often include surgical resection of certain Port Wine Stains especially for Hypertrophic Port Wine Stains. This can be performed on the face or the body, combining laser treatment with resection and advanced reconstruction to obtain the most impressive results.
If you would like to learn more about treating your son or daughter's port wine stain with laser therapy, please contact the Beverly Hills Center today.