Perioral Beauty – Enhancing Dentistry With Aesthetic Surgery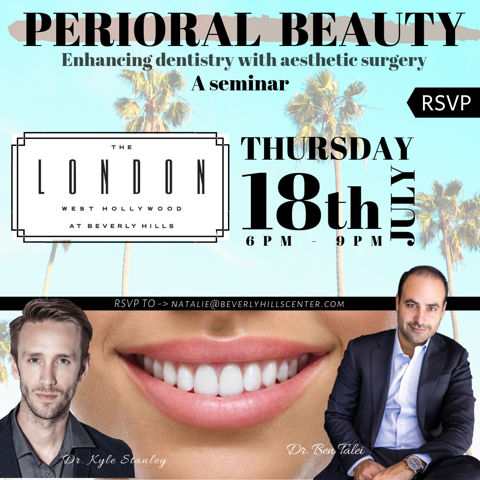 On the heels of the first ever Orofacial Club Seminar in Miami, FL, plastic surgeons, dentists and oral surgeons are invited to attend a Perioral Beauty seminar at The London West Hollywood Hotel at Beverly Hills on Thursday, July 18th. Dr. Ben Talei, world-renowned facial plastic surgeon, will be speaking on the art of personal enhancement and the beauty of the smile. Joining him will be cosmetic dentist and accomplished lecturer, Dr. Kyle Stanley. As members of the Orofacial Club, Dr. Talei and Dr. Stanley will discuss the importance of combining disciplines in order to provide excellent patient care and superior results.
Specifically, the event is designed to improve the connection among plastic surgeons, dentists and oral surgeons. By building bridges across multiple disciplines, patients can achieve far better cosmetic outcomes due to the consideration of the appearance of their smile, as well as facial harmony and balance.
For instance, imagine that a patient visits a dentist for treatment on their teeth and gums. While the right cosmetic dentist can deliver a beautiful result in regards to the teeth and gums, it is important to consider the soft tissues and facial features that frame the smile. By considering all of the facial features that impact the smile, patients will have a high degree of confidence that their cosmetic outcome will be superior due to the whole facial approach, that Dr. Stanley will discuss. Facial features that should be considered prior to treatment include: Are fine lines and wrinkles surrounding the mouth? Are the corners of the mouth down-turned? Have lips become thin? Addressing these facial features along with a patients smile is the best way to enhance dentistry with aesthetic treatment and/or surgery.
If you are a cosmetic facial plastic surgeon, dentist or oral surgeon, and you were not able to attend the Orofacial Club Seminar in Miami, now is the chance to expand your knowledge and vision by registering for the latest event. The seminar is a one time, free of charge event, with very limited seating. Feel free to share this information with other doctors that you feel would benefit from July's seminar.
The details are as follows:
Thursday, July 18th, 2019
6 -9 PM PDT
The London West Hollywood at Beverly Hills
1020 North San Vicente Boulevard
West Hollywood, CA 90069-3802
Register here: https://www.eventbrite.com/e/perioral-beauty-enhancing-dentistry-with-aesthetic-surgery-tickets-64005919428?aff=IncompleteRegistration&utm_source=eb_email&utm_medium=email&utm_term=event_title_p1&ref=eemail