Not Ready To Commit To Nose Job Surgery?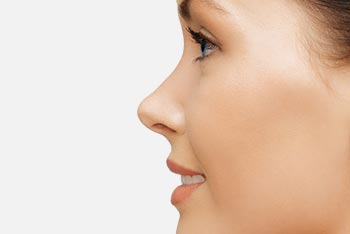 Are you interested in having a nose job but afraid to take the plunge? There are countless patients who are hesitant to go under the knife in order to have the nose they've always wanted. Whether it is the cost, recovery or permanent commitment that is causing you to shy away, there is a solution that can help you achieve a more attractive nose without surgery. At our plastic surgery center in Beverly Hills, we proudly offer non-surgical nose jobs as a less expensive and minimal downtime alternative to traditional rhinoplasty.

A Preview Without Risks
A non-surgical nose job involves the use of dermal fillers to make subtle improvements in your nose, including better symmetry, reducing the appearance of a nasal hump, redefining the nasal tip and much more. If you are not comfortable with the permanent results of a surgical nose job, this minimally invasive procedure can serve as a type of "preview" of what your rhinoplasty outcome could be.
Rhinoplasty is considered a more effective procedure, with the ability to reshape underlying cartilage and bone. However, the use of filler injectables can give you a fairly accurate indication of how confident you can feel with a more attractive nose. While the results are only temporary (possibly 12 months or more), it means there is no long-terms risk if you are not happy with the outcome. For many patients, however, it is just what they need to feel comfortable enough to schedule a surgical nose job.
For patients that want more than a "liquid nose job" but not as much as a traditional rhinoplasty, Dr. Talei has pioneered a Minimally Invasive Rhinoplasty technique, which shortens healing time and bruising while leaving minimal to no evidence a surgery was done. This is a form of Endonasal Rhinoplasty that offers remarkable results but consists of more limited internal incisions and less dissection.