Improving Your Nose Without a Nose Job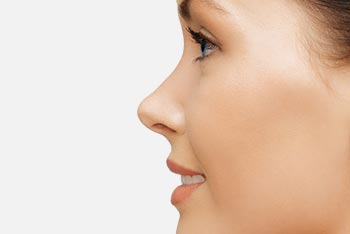 Despite its central position on your face, the nose should never attract attention. The nose should be in proper balance and proportion within the face to allow more desirable facial features (the lips or eyes) to be highlighted.
Rhinoplasty can certainly alter the shape or size of the nose to improve its appearance. However, not everyone wants to undergo nose surgery, and there are times when altering other facial features can improve the appearance of the nose. From liquid rhinoplasty to chin implants, patients can gain a more attractive nose without a traditional nose job.
Liquid Nose Job – This refers to the use of filler injectables to correct minor aesthetic flaws within the nose. Non-surgical fillers can reduce the appearance of bumps and indentations as well as create more symmetry within the nose. Results are instant and downtime is virtually eliminated.
Chin Augmentation – There are times when the nose appears too large simply because the patient has a weak or flat chin. By making the chin more prominent, the nose appears less protruding and more balanced with the rest of the face. Chin enhancement can be done with the use of fat grafting or chin implants.
Lip Enhancement – This is more subtle approach to improving the appearance of the nose. However, just like the chin, when the lips are too flat or undefined, the nose can consequently dominate the overall facial look. By enhancing and plumping the lips, through lip fillers, surgical lip enhancement or other treatments, the attention is drawn to a more desirable feature and is less focused on the nose.
Are you bothered by the appearance of your nose but don't want to undergo surgical rhinoplasty? You have options! Turn to the expertise of Dr. Ben Talei for excellence in all types of cosmetic procedures for the face. There's more than one way to gain a more attractive nose.