Hair Loss Can Be a Woman's Concern, Too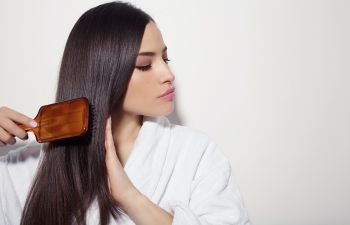 It is very common and perfectly normal to see hair in the shower drain or on your hairbrush if you are a woman. In fact, the average female sheds 50-100 strands per day, according to Smart Beauty Guide. The shedding of hair is part of a healthy hair growth cycle. There are three main stages of hair growth, called the anagen, catagen and telogen phases. Each strand of hair can be in its own stage. In general, your hair grows for about two to six years before it stops and enters the shedding (telogen) phase. Once the cycle is complete, it begins again as a new strand of hair starts to grow.
While some shedding hair is normal, it is a much more serious matter for some women. Whether temporary or not, when the hair growth cycle gets disrupted, hair loss can occur. Contrary to popular belief, men are not the only ones to experience hair loss and pattern baldness. According to the American Hair Loss Association, 40% of hair loss sufferers are females! Unfortunately, many women suffer in silence when there are proven hair loss treatments available.
Reasons for Hair Loss Treatment
We know that hair loss and thinning hair is a result of a disruption of the hair growth cycle. There are a number of factors that can cause this for women, including the following:
Hormonal changes and pregnancy
Metabolic imbalances
Illness
Improper nutrition or vitamin deficiencies
Stress
Some types of hair loss are a temporary side effect of one of these factors, and other cases are more permanent. Determining the culprit to female hair loss is the first step towards effective treatment.
Hair Loss Restoration for Women
If you are suffering from female hair loss, you are not alone. The same treatment options that are available to men are also available to women. In fact, hair replacement techniques have advanced dramatically in the past decade. Not only are there hair loss products and supplements, but women can also regain a natural, long-lasting fullness in their hair using Neograft hair transplantation.
Dr. Ben Talei is proud to be a leader in hair transplantation using the NeoGraft technology. This method is safe, effective and known for its natural-looking results. NeoGraft is a FUE (follicular unit extraction) method that restores female hair with the following benefits:
Minimally invasive with little-to-no-downtime
No scalpel, stitches or large incisions
Transplantation using your own hair, resulting in a completely natural look
No noticeable scarring, freedom to choose your own hairstyle
To learn more about NeoGraft hair transplantation for women or other female hair loss treatments, call Dr. Ben Talei of the Beverly Hills Center today. We can help you regain the confident look you deserve after thinning hair.