Get Younger Hands with Restylane Lyft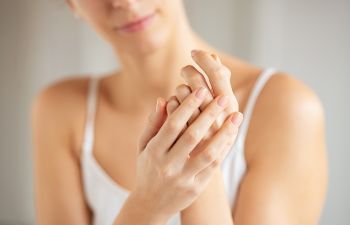 You don't have to be a hand model to want more attractive hands. Of all of the parts of your body, your hands are among the most exposed. Not only do others see your hands on a daily basis, but they've likely been shown to the sun quite often over the years. Coupled with the natural aging process of volume loss and diminishing skin elasticity, this frequent sun exposure can accelerate the appearance of aging hands even more.
Are your hands making you look older than you really are? The hands can suddenly reveal a skeleton appearance with thin, creped skin and raised tendons and prominent blood vessels. Just like signs of aging in the face, these unwanted changes in the hands can be blamed on fat volume loss and declining collagen production in the skin. The natural atrophy of the intrinsic muscles of the hand due to aging contribute to making the tendons, veins and metacarpal bones unsightly and overly prominent. Fortunately, just like your face, a qualified plastic surgeon can help.
An Easy, Non-Surgical Approach to Youthful Hands
There are some simple and very effective non-surgical treatments that can be done to rejuvenate aged hands. Along with chemical peels or microdermabrasion to revitalize old skin on the hands, dermal filler injections can bring some of the most dramatic improvements. Restylane Lyft is an ideal filler choice to combat the signs of aging in the hands.
Restylane is an original dermal filler that was FDA approved in 2003 for the treatment of nasolabial folds and creases on the lower face. However, Restylane's product line expanded to include Restylane Lyft for cheek augmentation in 2015. By 2018, Restylane Lyft became the first hyaluronic acid filler to be approved for age-related volume loss in the back of the hands.
As a hyaluronic acid dermal filler, Restylane Lyft can add a substance into the hands that your body naturally produces for hydration, plumping and firming within the skin. HA filler products to this by immediately binding with nearby water molecules when strategically injected into the skin.
In terms of injection into the hands, Restylane Lyft is placed just under the skin but above the connective tissue that covers the tendons, bones and vessels that are so prominent on the back of the hands. Once injected, the hands can receive an instant "facelift" for up to six months before another injection may be needed.
Want to learn more about hand rejuvenation in Beverly Hills? Call Dr. Ben Talei to book your consult Rystylane Lyft is just one effective way we can bring back the hands of your youth.