Facial Plastic Surgery After Weight Loss: Are You a Candidate?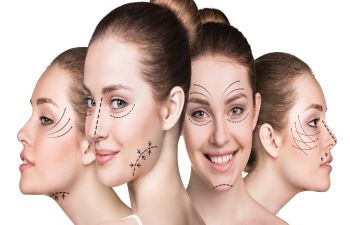 Have you recently undergone dramatic weight loss? If done so in a healthy manner, we applaud you. When the number of the scale decreases substantially, it typically means you've lost a large amount of fat. But what about the skin that was holding that fat? Many patients turn to plastic surgery after dramatic weight loss to remove excess skin. Sagging or excess skin after weight loss can occur anywhere on the body, including your face.
If you have experienced dramatic weight loss from bariatric surgery or diet and exercise, plastic surgery can be your final step to a more confident and contoured you. However, not everyone is a candidate for excess skin removal. If you are considering plastic surgery to improve your facial contour, you'll need to meet the following criteria:
Stable weight for at least six months with no further weight loss expected. For a period of time after dramatic weight loss, your skin will naturally shrink down and your nutritional health will stabilize. It is important to allow this to happen before you jump into a plastic surgery to remove the skin. Consider carefully if you are done losing weight or whether or not you are committed to maintaining your current weight and not gaining it back, as these will significantly impact the value and results of your skin removal surgery
Good overall health without chronic medical conditions. As with any plastic surgery, it is important that your body is strong enough to withstand the procedure and heal from the procedure. Those with diabetes or heart disease need to get clearance from their physician before undergoing plastic surgery.
Maintain a healthy diet. It is common for patients who have experienced weight loss to consume less calories. However, if you have a protein deficiency or compromised nutrition, you may not be a good candidate for surgery. A healthy and balanced diet is critical to healing after plastic surgery.
Non-smoker. Smoking slows down the healing process and increases the risk of serious complications from facial plastic surgery. You'll need to kick your habit altogether or at least stop smoking 6 weeks before surgery.
Realistic expectations. While removing sagging skin throughout your face after weight loss can drastically improve your appearance and even "show off" your slimmer face, you should not expect it to completely reverse the effects of what your weight gain has done. In addition, the face will undoubtedly suffer the signs of aging, which can often present itself as sagging skin over time. Therefore, your skin removal surgery result may not last forever.
Dr. Ben Talei is a renowned facial plastic surgeon who can perform a wide variety of procedures to help you tighten and lift skin that has become loose after dramatic weight loss. While we offer advanced facelifts and neck lifts, we also offer a number of non-surgical methods to improve mild to moderate loose skin. Call today to schedule a consult and determine your candidacy for facial plastic surgery after weight loss.