Should You Consider a Brow Lift with Your Eyelid Surgery?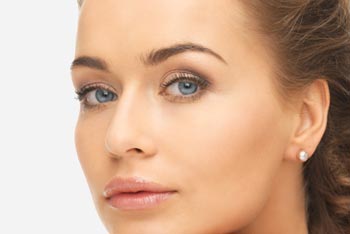 When experiencing the signs of aging in the face, adults almost invariably notice it around their eyes. The delicate skin around the eyes often loses its elasticity first, causing wrinkles, sagging skin and other unwanted concerns. Since the eyes show expression and vigor, it is common for patients to request eyelid surgery, also called blepharoplasty, to make them look younger and even appear happier. For many, it is also a means to restore proper vision, as excessive upper eyelid skin can cause hooding and impair full sight.
Blepharoplasty can include surgical correction of the upper or lower eyelids, or both in some cases. When it involves the upper eyelid skin, it is may be beneficial to combine the procedure with a brow lift. This may not be on a patient's first set of plans, but after thorough consultation, a portion of patients realize that adding a brow lift will bring them more dramatic and natural looking results as they seek to restore their youthful appearance.
Consider Your Specific Goals and Needs
What is your main concern? Does your aged appearance cause you to look sad or angry all the time? If it is lateral hooding of the upper eyelids or the impaired peripheral vision you have as a result of the excessive upper eyelid, you may benefit from a brow lift combined with blepharoplasty. Remember that a brow lift is not simply a dramatic lift of the brow position. Instead, it is a subtle and natural repositioning of the skin that has sagged with age, and it can significantly improve the signs of aging directly around the eyes. Keep in mind that when your plastic surgery involves correcting or improving vision, your insurance will often cover or partially cover your procedure.
On the other hand, if your concerns are limited to the eyes or just the eyelids, you may get the results you need with an upper eyelid lift alone. In some cases, you may even get improved effects from non-surgical procedures, such as Botox. Botox is an excellent solution for Crow's feet, or the "laugh lines" that develop on the outside of the eyes.
At Beverly Hills Center for Plastic and Laser Surgery, we offer a full menu of cosmetic procedures for the eyes, brows and forehead, including upper and lower blepharoplasty and endoscopic brow lift surgery. We always carefully consult with each patient to determine which procedure or combination of procedures will best meet the patient's goals, needs and budget.