Is A Chemical Peel Right for Me?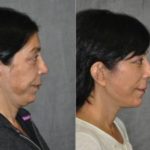 Looking for a non-invasive way to rejuvenate your appearance? Facial chemical peels are a quick, time-tested treatment approach to help patients regain a youthful facial glow without surgery. While the term "chemical peel" may sound harsh or unpleasant, it is actually one of the least invasive services for treating a number of popular aesthetic concerns on the face, including the following:
Age spots
Acne or acne scars
Fine lines and wrinkles
Freckles
Irregular skin pigmentation
Rough, scaly patches
Sun damage
A chemical peel works by using a special solution to remove the dead, damaged or rough top layer of your skin, which ultimately reveals the more renewed, fresh and glowing layer of skin cells underneath. Chemical peels can be used on your face as well as your neck or hands. They can smooth the texture of your skin, help even out the tone or pigment of your skin as well as address minor lines and wrinkles acquired by aging.
While chemical peels are an excellent way to turn back the hands of time without going under the knife, it is important to realize that chemical peels cannot address deep lines, excessive wrinkles, sagging skin or large pores. However, you can expect to see significant improvements in your skin's appearance, especially if you schedule chemical peels on a routine basis.
Women as young as 30 can start benefiting from chemical peels. In fact, they are a great way to delay the signs of aging or avoid a more invasive cosmetic procedure. At Beverly Hills Center for Laser and Facial Plastic Surgery, we perform chemical peels as a standalone procedure or as a compliment to a previous surgery. Dr. Talei offers a number of chemical peel options, and he will choose the best products for your specific skin type and concerns.