Botox Vs. Fillers: Which Is Right for You?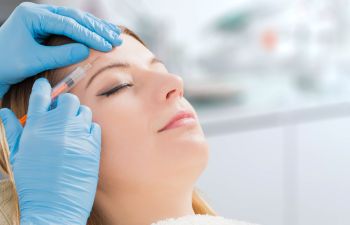 Facial injectables have undoubtedly become the most popular option for patients who want to turn back the hands of time without the incisions, anesthesia and downtime of plastic surgery. With a series of strategically placed injections, you can smooth out wrinkles, restore lost volume and add definition to your profile. It's commonly called a "liquid facelift." However, there are numerous types of facial injectables to choose from, and each product should be used for certain needs.
The two main categories of injections are Botox and fillers. Here's a recap of the differences, including when and where to use these products.
Relax Your Wrinkles with Botox
Botox is known as a neuromodulator. Instead of plumping or filling areas of lost volume, it is designed to relax the facial muscles that cause wrinkles and fine lines. This often puts Botox as a go-to choice for forehead wrinkles, the "11's" between your eyes and "crow's feet" that extend from the corner of the eyes.
Botox is FDA approved and only partially paralyzes the facial muscles on a temporary basis. From a well-qualified plastic surgeon, your Botox injections should never inhibit your natural facial expressions. This wrinkle relaxer treatment should last 3 to 6 months.
Smooth and Plump with Dermal Fillers
Dermal fillers are an opposing type of facial injectable, and there are a variety of filler products out there, including Juvederm, Restylane, Radiesse, Sculptra and more. In contrast to Botox, fillers work to smooth out wrinkles from the inside out. Fillers are injected into the deep layer of tissues in order to restore structure and support that was lost over time. Dermal fillers are activated by hyaluronic acid, a synthetic form of what our body naturally produces to plump the outer dermis of the skin. Fillers tend to last longer than Botox, some of the latest products may last up to 18 months!
Dermal fillers can smooth areas such as:
Nasolabial folds (from nose to mouth)
Smile lines
Marionette lines (from mouth to chin)
Dermal fillers can also restore lost volume and "plump" the following areas:
Underneath the eyes; hallowed tear troughs
Along the cheekbone and midface to add lift and definition
Across the jawline to address jowls
Thin lips to create youthful pout
Make it a Combo
The good news is that you don't necessarily have to choose between Botox and fillers. Many patients benefit from both types of injections. Dr. Ben Talei is a very skilled plastic surgeon with elite talent in choosing the best fillers for your face as well as injecting them in the most strategic ways to produce a natural, youthful outcome. Schedule your liquid facelift in Beverly Hills today!