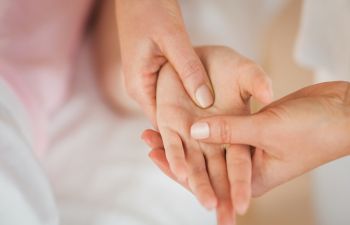 While it is more common to think of wrinkles and volume loss within the face, the delicate skin and tissues of the hands are just as vulnerable to the unwanted signs of aging. In fact, the hands rank as one of the first body parts to reveal your age. This is due to a number of factors, including the inevitable daily exposure to the sun and other environmental elements as well as the fact that the skin of the hands naturally thins out as we get older. Most influential, however, is the common neglect to prevent aging in the hands. Many aging adults start regimes in their 20's or early 30's to delay aging in their face, whether it be a better moisturizer application, anti-aging serum or filler injections. However, when it comes to the hands, the gradual loss of youth gets overlooked – often until it is too late.
Signs that Your Hands Have Lost Their Youth
Over time delicate skin in your hands begins to thin out. There is also a reduction in tissue volume within the hands. The thinning skin and fat loss in the top part of the hands can make veins and bones more visible. People may also notice that their hands have wrinkles, sagging skin and age spots as they get older.
Can You Regain Youthful Hands?
Are your hands telling your age, or even making you look older than you really are? You're not stuck with your "granny hands." A skilled plastic surgeon, such as Dr. Ben Talei, can offer a number of non-surgical treatments to rejuvenate the hands, including the following:
Volume Augmentation – using fat grafts or filler injections
Age Spots Reduction: using creams, laser or IPL (intense pulsed light), excision, cryotherapy, dermabrasion or chemical peels
Ready to turn back the "hands" of time? Call Beverly Hills Center for Plastic & Laser Surgery today. Considering how visible your hands are in your everyday life, an effective rejuvenation treatment can make a dramatic difference in helping you look and feel younger.