Are Your Hands Showing Your Age?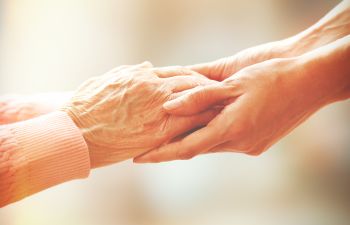 When we think of the signs of aging, most of us consider our face. However, the back of the hands can also reveal your age and even make you seem older than you really are. The skin the back of your hands can get rather thin, and you may notice that your tendons and veins look more prominent than they once did. This skeleton-like appearance can be accompanied by sun spots and other unsightly pigmentation throughout your hands.
Since your hands are rarely covered up, it makes sense to give them some anti-aging TLC. Did you know that a plastic surgeon has special treatments to reverse the signs of aging on your hands, from special creams that fade age spots to fat grafting to help you regain youthful volume and plump up the areas in between the tendons of your hand.
Depending on your level of concern and your budget, a plastic surgeon may address your aging hands with the following:
Volume Augmentation

Volume augmentation addresses the natural atrophy, or shrinkage of tissues, that occurs within the fat, muscle and collagen as your hands age. This results in a depression between the bones and more visible veins and tendons. Volume augmentation can resolves this concern and restore a healthier, softer appearance to the hands. Volume augmentation can be done with fillers (injections) for a cheaper, yet more temporary solution or it can be achieved with fat grafting for a more permanent fix. Both treatment take little time to do and require no down time.

Pigmentation/Sun Spots Treatment

Your skin may not be as even as it used to. Years of sun exposure and other evidence of a hard-working life may leave you with unsightly spots or pigmentation. Sun spots, also known as liver spots, age spots, solar lentigines, lentigo senilis or senile freckles, are common on aging hands. Several effective treatments can be initiated for sun spots, including bleaching or steroid creams, laser or IPL (intense pulsed light), excision, cryotherapy, dermabrasion and chemical peels. Scar treatment can also be considered if needed.

Daily Preventative Care

The key to youthful hands can be found in your everyday skin care routine. Just like your face, the back of your hands need a good moisturizer as well as sunscreen on a daily basis. Your plastic surgeon or dermatologist may also suggest an anti-aging cream to combat mild signs of aging before they become a major concern. Proper skin care on your hands can also extend the lifespan of your plastic surgery results, whether it be laser treatment, grafting or other hand rejuvenation therapies.
Contact Dr. Ben Talei for Youthful Hands
It's hard to avoid the sight of your hands. Are you content with the way they look? If you notice signs of aging on your hands, consider Beverly Hills top facial plastic surgeon for help. Dr. Ben Talei offers a broad range of services to rejuvenate the hands and feet.